The bathroom is a place of cleanliness and freshness. With natural stucco Veneziano you have a mould-resistant and water-repellent surface in your bathroom.
Stucco Veneziano and Marmorino in the bathroom
Seamless surfaces are very much in demand in modern bathrooms. Stucco Veneziano achieves smooth walls and ceilings polished to a high gloss. The typical lustre of Stucco Veneziano comes from the pressing of the lime crystals. These marbled surfaces are translucent, the light hits up to the first layer and a changing play of colours is the result. Very noble and beautiful to look at. Due to the alkalinity of the lime there are no problems with mould formation.
The cleaning has to be carried out differently to tiles, because lime is sensitive to acid cleaners and no scrubbing sponges may be used. It is wiped with a damp cloth. For coarser soiling, clean with a soap solution. Click here to go to the Venetian soap.
Stucco Veneziano in the shower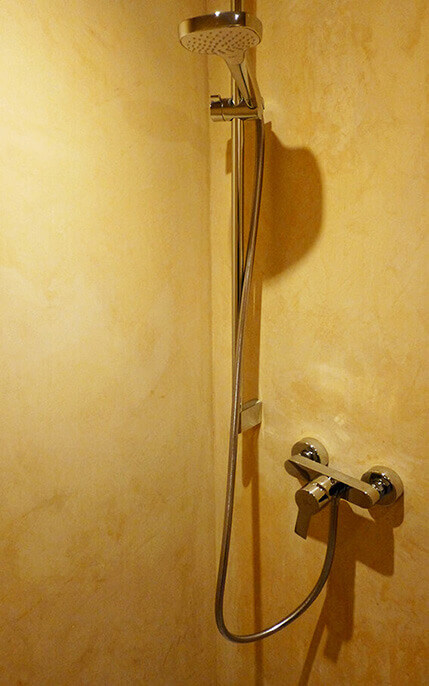 The use of Stucco Veneziano in showers, shower cabins or snail showers is also possible.
Stucco Veneziano Extra
is used there. The floor and wall surfaces must be waterproofed beforehand, as is also the case under ceramic coverings. There are some useful products available, which you can also get from us.
Here
you come to the sealing materials.
Stucco Extra is treated with Stucco wet room impregnation for use in the shower. The water-repellent, hydrophobic property of the impregnation lets the water roll off and reduces the absorption of the water. The pores of the lime are filled and the surfaces have optimal protection against water. Nevertheless, it is advantageous to dry the shower with a wipe after use to avoid lime stains from hard water.
If you have any further questions, please do not hesitate to contact me.
Click here to go to the contact form
or you can also reach me by phone at +43 660 6413 331.
For those interested in Tadelakt, the Tadelakt Manufaktur has everything to make the Tadelakt heart beat faster. Click here and visit the Tadelakt Manufactur onlineshop.