The bathroom is a place of cleanliness and freshness. With natural stucco Veneziano you have a mould-resistant and water-repellent surface in your bathroom.
Stucco Veneziano and Marmorino in the bathroom
In modern bathrooms, seamless surfaces are very much in demand. With Stucco Veneziano, you can achieve smooth and highly polished walls and ceilings. The typical shine of Stucco Veneziano comes from the pressing of the lime crystals. These marbled surfaces are translucent, the light hits the first layer and an iridescent play of colours is the result. Very noble and beautiful to look at. Due to the alkalinity of the lime, there are no problems with mould.
The cleaning has to be done differently from tiles, because lime is sensitive to acid cleaners and you must not use scouring pads. Wipe with a damp cloth. For coarser stains, clean with a soap solution. Click here to go to Venetian soap.
Tadelakt is a plastering technique for the shower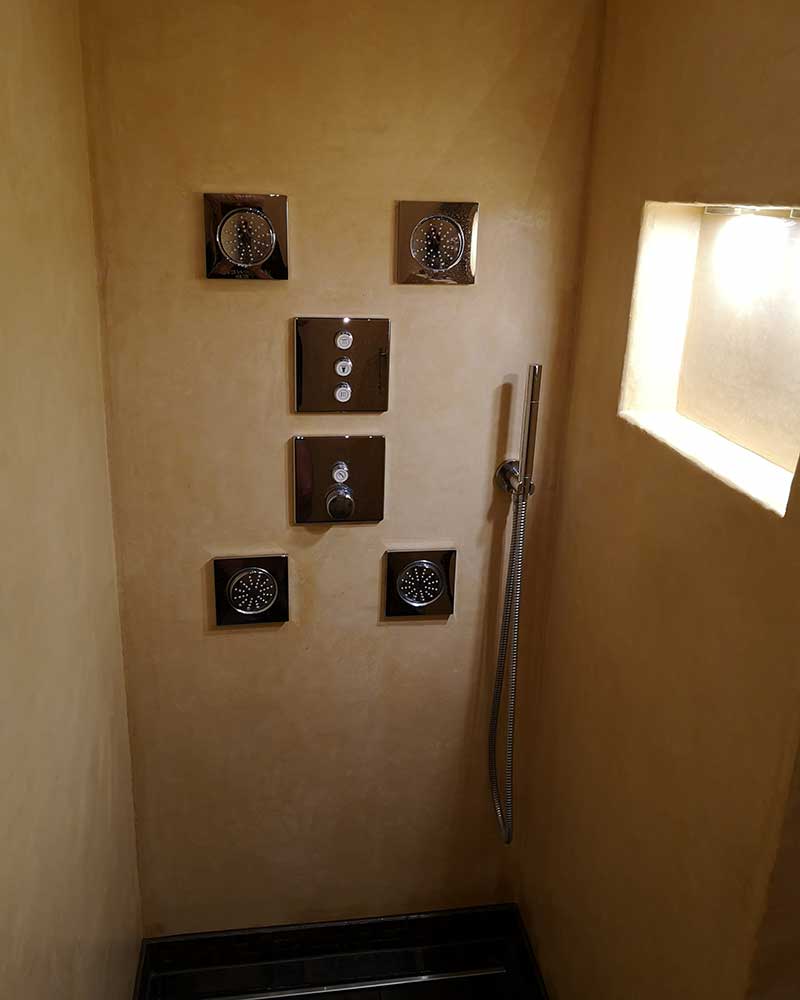 Neben Stucco Veneziano können auch die restlichen Marmorputze verwendet werden. In der Dusche, in Duschkabinen oder Schneckenduschen ist es möglich, Tadelakt zu verwenden. Der Boden und die Wandflächen sollten vorher mit einer wasserfesten Abdichtung versehen werden, sowie es auch unter keramischen Belägen der Fall ist. Dazu sind einige brauchbare Produkte zur Verfügung, die Sie ebenfalls bei uns erhalten. Hier kommen Sie zu den Dichtmaterialien.
Stucco Veneziano wird für die Verwendung im Bad mit Seife oder Wachs behandelt. Die wasserabweisende, hydrophobe Eigenschaft der Kalkseife, welche sich durch die Reaktion von Seife und Kalk bildet, lässt das Wasser abperlen und verringert die Aufnahme des Wassers. Wachs ist unpolar und ist ebenso wasserabweisend. Das Wachs kann zusätzlich zum Verseifen angewandt werden. Die Poren des Kalkes werden gefüllt und die Oberflächen haben einen optimalen Schutz gegen den Wasserdampf im Badezimmer. Dessen ungeachtet ist es vorteilhaft wenn nach der Benützung, die Dusche mit einem Wischtuch getrocknet wird, um Kalkflecken von hartem Wasser zu vermeiden.
Tadelakt ist ebenfalls eine mineralischer Putz, doch gegenüber Stucco Veneziano bindet dieser hydraulisch ab. Der Luftkalk im Stucco braucht das Kohlendioxid aus der Umgebungsluft um abzubinden. Die wasserabweisende Eigenschaft erhält Tadelakt durch die Seife und einer Wachsemulsion.
Sollten Sie noch Fragen haben können Sie mich gerne kontaktieren.
Klicken Sie hier um zum Kontaktformular zu kommen
oder Sie erreichen mich auch telefonisch unter der Nummer +43 660/6413331.