Stucco Veneziano by Stucco Naturale is a pure lime plaster with all the positive properties of lime. Mould resistant due to its alkalinity and moisture regulating due to its open porosity, lime is an ideal building material for nature-conscious and allergy sufferers. Wherever high moisture levels are to be expected, such as in bedrooms, bathrooms and cellars, lime is used to prevent mould growth. Beside the ecological advantages there is also the aspect to consider that with the products of Stucco Naturale many different surfaces can be produced for any ambience. Just with a few simple tricks, you can achieve fantastic results.
Real living means feeling really good…
Living is never short-term, but a project that accompanies us throughout our lives. One's own four walls are a place of retreat, but at the same time an expression of one's own character. In the end, however, living is only about one thing: our own well-being.
With the complete set you have everything you need for a feel-good wall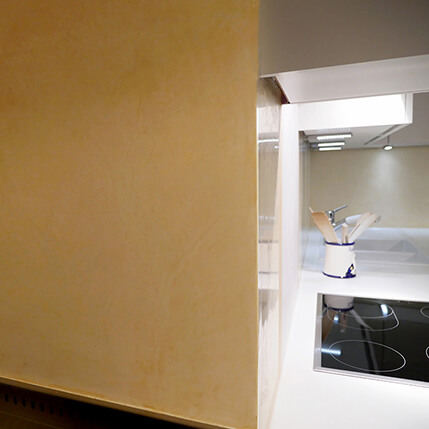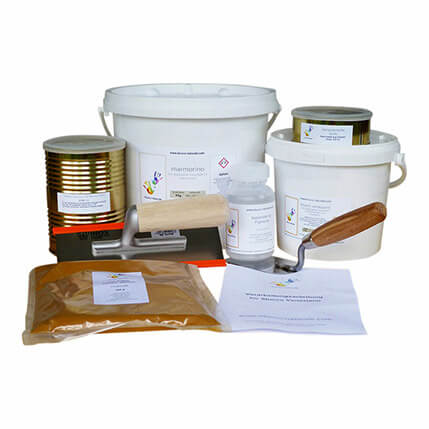 In the beginner complete set all products are received in order to come to a good result. Adhesion primer: for a secure adhesion of the plaster and as a balance of the absorbency of the substrate. Creative Plaster: as a basecoat for stucco Veneziano or for the production of borders, plaster inlays or sgraffito. Colour pigments and wetting agents: inorganic pigments are mixed into a coloured dough and stirred into the putty. Tools for professionals make it easier even for beginners: the Venetian smoothing trowel and the handy trowel are specially designed for stucco and, thanks to their good workmanship, are a companion for a long time. Venetian soap: is used for high gloss polishing and protection of the finished lime plaster surface and as an additive for Stucco Veneziano. Instructions for use: Step by step you will be guided through the working process to gain the safety and necessary understanding for your project. This experience will allow you to easily master larger projects in the future. You can make an area of up to 6 square metres with the beginner's complete set. It is also a great eye-catcher when you breathe new air into an old room door, for example, and thus have a good change for little money. Or you can fill the side wall of an old piece of furniture from chipboard to get something new without having to dispose of the good old piece. Today's throw-away society is based on this consumerism, but it is high time for a rethink.